by Dr. D ~ June 21st, 2016
The Obama administration continues with its narrative that Islam has nothing at all to do with radical terrorist events like Orlando, it's all about guns. In keeping with that view the Justice Department published a highly edited transcript between the Orlando terrorist and a 911 operator with all references to 'ISIS' and 'Allah' blocked out:
Orlando Police Dispatcher (OD): Emergency 911, this is being recorded.
Shooter (OM): In the name of God the Merciful, the beneficial [in Arabic]
OD: What?
OM: Praise be to God, and prayers as well as peace be upon the prophet of God [in Arabic]. I let you know, I'm in Orlando and I did the shootings.
OD: What's your name?
OM: My name is I pledge of allegiance to [omitted].
OD: Ok, What's your name?
OM: I pledge allegiance to [omitted] may God protect him [in Arabic], on behalf of [omitted].
OD: Alright, where are you at?
OM: In Orlando.
OD: Where in Orlando?
[End of call.]
On Sunday,  Attorney General Loretta Lynch appeared on a number of TV news programs announcing that the administration would be releasing partial transcripts on Monday with some references blocked out:
"What we're not going to do is further proclaim this man's pledges of allegiance to terrorist groups, and further his propaganda," Lynch said. "We are not going to hear him make his assertions of allegiance [to the Islamic State]."
Obviously the administration thought that the media would go along and support them in this farce but for once they were wrong and the whole thing blew up in their faces. By Monday afternoon they were forced to release a less redacted version: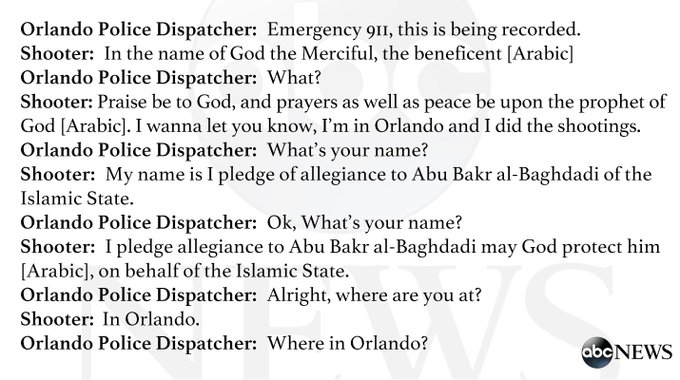 Response: Notice that the newest version may include a reference to ISIS but still blocks the terrorist's obvious reference to 'Allah' of Islam. As it stands, a 'Christian' could have made the first statement about 'God.' In fact I am quite sure if the terrorist claimed to be a Christian and said that his actions were 'in the name of Jesus Christ' we would have a full and complete transcript. Not only that, but the full blame would go to 'homophobic' conservative Christians that 'cling to their guns and religion.'
Even though the terrorist himself proclaimed an allegiance to ISIS and referenced Allah and the prophet of Islam, the President still maintains that this terrorist event was the actions of an unrelated non-directed single gun toting individual:
"We see no clear evidence that he was directed externally," the president added. "It does appear that at the last minute, he announced allegiance to ISIL. But there is no evidence so far that he was in fact directed by ISIL, and at this stage there's no direct evidence that he was part of a larger plot."
These people (the President and his administration) are supposed to be among the brightest and smartest in America? ISIS announced last month that all faithful American Muslims should attack non-believing fellow Americans but because there appears to be no 'direct' communication between ISIS leaders and the Orlando terrorist this latest terrorist event is unrelated to ISIS and Islam no matter what the terrorist himself said?
Do they really believe this or do they think that Americans are really that stupid? Apparently so, since they continue to maintain the narrative that it has nothing to do with radical Islam and it is all about guns. Forget the fact that box cutters killed over 3,000 on 9/11/2001.              *Top
>>>Don't Miss an Update!**CLICK NOW**Get ANSWERS For The Faith by email<<<